Promoting a brand and maintaining its presence on Facebook is known as Facebook marketing. It is a constant practice that raises the brand as an established one. Currently, it has become a trendy practice across the world with the growth of businesses.
Let's first have a look at the responsibilities of a Facebook marketer.
Scopes of Facebook
If you are looking for a great social media strategy, you can easily choose Facebook as a perfect marketing platform. Whether you intend to become a Facebook marketer for your business or for others the technical responsibilities are the same –
Posting videos and images to promote products, also scheduling posts and plan to keep the organization's objectives
Run campaigns and keep tracking how much effective the campaigns are
Managing a budget for social media promotion and pay-per-click (PPC) advertising
Creating content and strategies for social media promotions for the target audience
Facebook marketing can be an ideal choice if you like versatile fields, able to think, and love to be creative. For a beginner, it is a good idea, if you want to land high-paying jobs.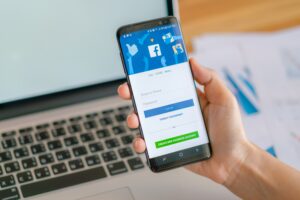 The Demand for a Facebook Marketer
Mainly there are three reasons why Facebook marketing is in demand –
Facebook has become one of the top user's apps in the world, thus if you brand here you have to reach more people.
Promotion trends have changed over the years. Nowadays people are not encouraged to by simply telling them to buy.  Images, videos, and different contents are needed to connect with people.
Keeping content consistent is more challenging than creating content. So, a Facebook marketer is exactly needed for this. Because if you don't keep posting content, your competitors will go ahead of you.
Required skills to develop a career as a Facebook Marketer
We have now made clear about this career field. So, it's now time to know what skills you need to be a Facebook marketer. It will move you ahead for the digital marketing roadmap in 2021.
Working knowledge of and interest in the strategies used by organizations to market themselves via social media is required.
Excellent communication and presenting abilities
Technical knowledge about social media
Organizational abilities
Analytical skills
Ability to multitask and work on multiple projects at the same time Problem-solving skills
How can you develop skills?
You cannot develop your skills overnight. Yet, there are a few processes that will help you speed up the process. How?
Just go through the following points –
Enroll in a Facebook marketing training course. Learn from experts. This will help you to learn in an organized way, save you from digging all by yourself and wasting time. There are offline and online digital marketing training courses available in  IT learning institutes.
Also, there are plenty of videos available on Youtube from professional Facebook marketers. There are blogs, and free courses available on different websites. Quora and Reddit will be helpful in this case.
Learn how to use "Facebook Business Suite" from a professional IT professional Learning center. As it's a free product, it allows you to manage all of your business activities on Facebook, Instagram, and Messenger from any platform.  It will make you more dynamic. Also, with the social media marketing course, you can bring productivity to your work.
Lastly, if you want to step up your game, learn content marketing. This will help you to keep creating content. Throughout this learning, you will be able to differentiate what kind of content you need for your targeted audience. Also, you will know how to properly execute it.
Through Facebook marketer, it will be easy to climb to social media manager. Thus, for more knowledge complete a certified social media marketing course.
Final Thought
Now you know about the nicknacks of Facebook Marketing. If you want to develop your career, it must be a good deal. Whether freelancing or business, you must have good knowledge about Facebook as a marketing platform