Cisco certifications have grown in popularity over the last few years. Cisco certifications are currently regarded as some of the most valuable in the IT industry. Cisco certifications come in a variety of forms. The most popular ones are CCNP and CCNA. They come with wonderful opportunities and a high payroll.
If you are interested in networking and security but confused about where to start then this blog is for you.
What is CCNA Training?
In CCNA training, you will learn for entry-level positions in networking and security. These are issued by networking hardware company Cisco. This training will come up with CCNA certification to make you eligible for IT companies. This certificate increase credibility of your knowledge of fundamental networking concepts. Such as switches and routers, LAN/WAN, and TCP/IP model.
What is CCNP Training?
In CCNP training, you will prepare for advanced positions. After completing the training you will be passed with CCNP certification. Having a Cisco Certified Network Professional (CCNP) certification proves that you know how to set up and fix both LAN and WAN networks.
Here you can work with experts on voice, wireless, advanced security, and video solutions issues. Thus, you can learn as someone who can work together. This is how CCNP training can boost your career goals.
Differences between CCNA and CCNP
If you are worried about which career path you should choose. Or, which one you should pursue? Both the training will guide you to build a good freelancing career. The points below are discussed in detail so that you can figure out which one will suit you the most.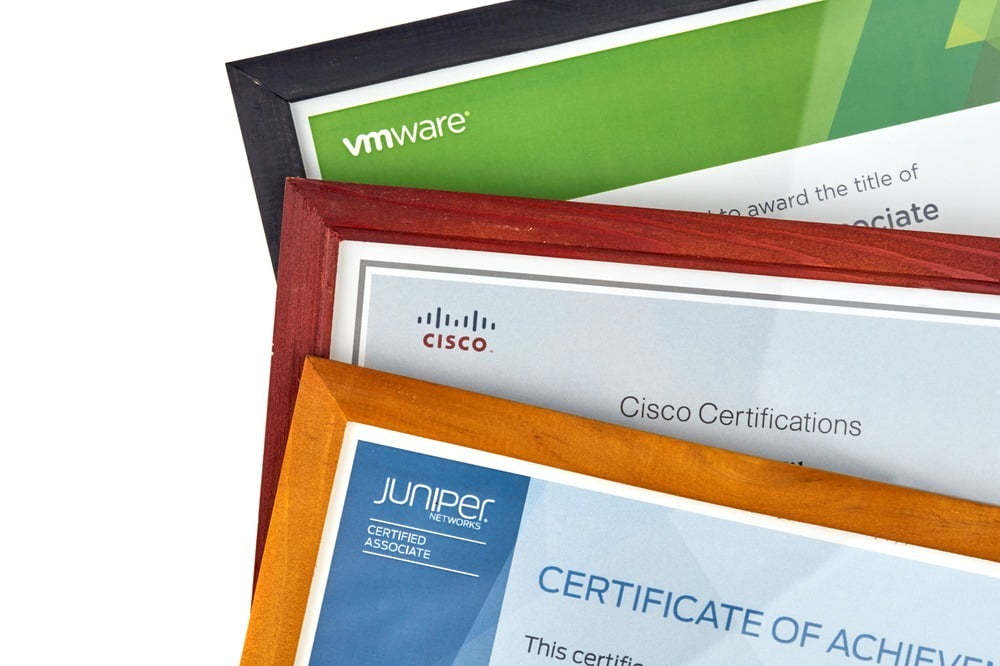 Who should pursue CCNA?
The CCNA certification is for people who have worked with networking for 1 to 2 years. The most important thing about CCNA training is that you can get a CCNA certification. The main goal of the Cisco certification is to learn more about networking. Also, you can have some experience in the domain through CCNA training.
Testing and training are required for Cisco students who want to get prepare for CCNA exam. They need to learn how to install, maintain, and troubleshoot medium-sized networking devices. This class also tests and teaches students how to fix and set up end-to-end networking.
CCNA certification also gives people to become Cisco employees. In that way, you can get a good chance to learn about the company's basics and concepts. Besides, the certification gives newcomers a lot of information about IT equipment. Even though the material is specific to a Cisco environment, it is also important at a basic level. People who get this certification can use their knowledge in many different situations. You can improve your marketability on many different platforms too.
Who should Pursue CCNP?
For people who work in IT and have at least a year of experience with networking, this certification is out there. Also, you must have a secondary school diploma or an equivalent. The CCNP certification is for people who want to learn more about Cisco. They can learn a wide range of network solution products for the installation, maintenance, and planning.
Professionals who enroll in this program will learn how to troubleshoot, install, and maintain. In both WAN and LAN systems, they learn to operate at speeds of up to 500 knots. Additionally, this certification program teaches students about various networks and protocols. For instance- route redistribution, access listings, Ethernet, and AppleTalk.
The certification course's primary aim is to prepare professionals for the CCNP examination. Many practical examinations assess the student's understanding of Cisco's IP switched network and IP routing . Additionally, these tests assess students' ability to solve problems, test them.  Also, it employs a variety of methods.
Soft skills you need  to acquire along with training
Along with the technical skills, you need to concentrate on soft skills as well. Soft skills will help you to thrive in your workplace by making you more productive. The mentioned skills below prove to be handy :
You are actively listening when you pay attention to what is being said instead of just hearing what the speaker is trying to say. This is important for every field but it is more significant in this field. Without actively listening you will not be able to provide the right solutions.
Everything nowadays is programmable. Among them, many applications are built without strict security and/or testing requirements. It doesn't matter how many network layers of security your computer has. There might be things like the Rowhammer attack. This attack disallows you to retrieve information from memory while JavaScript is running in a browser.
This is why you need to be prepared to face new problems as IT is continuously getting developed. For this to be very technically sound along with analytical ability.
Collaboration of network and security teams reduces response time towards any problems. It can be effective and one of the effective methods to reduce risk reduction. So being a team player is not optional if you choose the networking and security career field.
Conclusion
Both the CCNA and CCNP certifications will help you advance in your career. Particularly if you want to work in the network field. You can easily do remote jobs also in organizations. You will find many freelancing successes in this career field. Choose a certification that matches your background and goals. Thus, stand out on the job market because this is a never-ending field. It is also possible to choose between CCNA and CCNP certifications. In that case, we recommend starting with the CCNA and then moving on to the CCNP.
If you are searching for CCNA training in Bangladesh then you will find many IT learning institutions. For instance, the Creative IT institute is successfully providing CCNA Certification Training.  For our student's convenience, we also provide CCNA Certification Courses Online. So what are you waiting for? Let's start creating a wonderful career ahead.