Freelancing means working independently for someone rather than formally employed by a company. We may call the freelancers self-employed free contractors. The terms of employment and pay of a freelancer are different from that of a full-time employee. We are going to discuss Freelancing Career in Bangladesh in 20121
We are living in the era of the gig economy. Did you know that the tech giant Google has more freelance contractors than permanent workers? Freelancers are creating so many values for their clients that are giving a boost in the mammoth growth of this industry in recent years. In this article, we are going to find out how good freelancing is as a career in comparison with traditional jobs.
Freelancers work on small projects and get paid for them. It is that simple. The work agreement is for a short-term or part-time basis. If you are a photographer then you may need a photo editing service for your latest project. Therefore, you may hire a freelancer for this small project and pay him after the job is done. There will be no bindings between you and the freelancer after you accept the work and pay for it.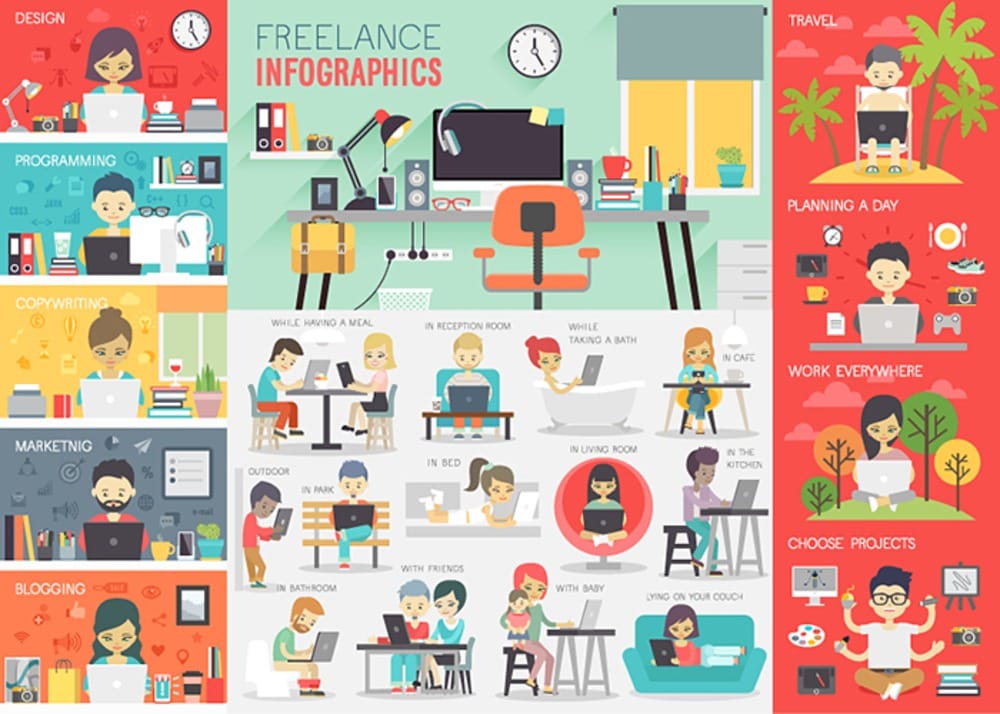 The majority of the time, gig work is done on small projects. For example, you may need to develop a WordPress website for your eCommerce business. You may hire someone for this project only for a specific time. The job contract will be valid till the time you accept the project after completion.
Hourly jobs are billed based on the hourly rate of the freelancer. The rate may vary based on the experience of the individual. The freelancer is responsible for tracking the time while working. The payment she gets is the multiplication of the total time she worked and the pre-agreed rate.
Retaining job contracts are based on a set number of hours per week or month. The employer retains the right on the employee for a specific period. She has to pay for the full period whether or not she engages the freelancer for the full specified time.
Freelance marketplaces are places where freelancers can find suitable jobs. These are the places for the head-hunters as well who are looking for suitable workers for their projects. When a person starts her career as a newbie, it is very difficult for her to find someone who is looking for the skill set she has. Therefore, marketplaces play a vital role while freelancers are kicking off their careers.
There are some big names in the marketplace industry. Upwork is probably the most popular of all. You will find any kind of job there – creative, marketing, admin, legal, accounting, you name it. Other popular marketplaces are Fiverr, people per Hour, freelancer, guru, Toptal, brigade, solid gigs, and so on. All of these companies get paid in return by the freelancers and employers as a commission.
There are countless jobs in the marketplaces. The reason is that it does not restrain anyone with any geographical barrier. The whole world is the market for gig workers. Let me categorize the jobs for ease of understanding.
You can work as a virtual assistant of a company to help them do administrative support jobs. The job responsibility may include maintaining the files, answering the emails, preparing the presentation, making a plan for travel, managing meeting schedules, and so on. Some other popular administrative freelance jobs include data entry, research, project management, and administrative support assistance.
There are a lot of jobs for creative persons in the marketplace who are specialized in designing, animation, or videography. Many times, it is expensive for companies to maintain an in-house creative team. Rather, hiring freelancers to develop the brand and design is cost-effective. Some of the popular jobs in this category are graphic design, photography & videography, video editing, motion graphics, UX design, brand identity design, and many more.
The list of jobs for writers and translators is long. Hundreds of freelancers are working in this field in several work titles namely copywriting, content writing, creative & technical writing, proofreading & editing, ghostwriting, business writing, and so on.
These freelance jobs require technical knowledge. With the advent of digitalization, web, and software development jobs are becoming more demanding than ever. This job category includes but is not limited to eCommerce site development, automation software development, web design and development, games, and mobile app development.
Every business has a sales and marketing department. Therefore, the demand for freelance marketers is never-ending. Digitalization has changed the trend of marketing media from traditional to digital channels. It has ignited the need for an online marketer further. Popular marketing freelance jobs are telemarketing, SMM, search engine optimization, email services, lead generation, search engine marketing, and so on.
Have you ever heard about a virtual CFO who works remotely for a company on a contract basis? Freelance accounting and finance jobs are becoming popular day by day as advanced technology is making the surveillance process easy. Therefore, accounting or financial professionals need not necessarily be present at the office physically. Some of the popular freelance services in this category are business analysis, tax preparation, financial analysis, management consultancy, bookkeeping, accounting, and financial management.
Other than the above-mentioned jobs, legal, IT and networking, customer service, and engineering services are also popular job categories where thousands of freelancers are working around the world. As geography is not an issue, a company based in country X can hire a freelancer in country Y without any legal barrier.
A freelancer has full independence over her workload. It is her discretion how much work she will do in any given week or month.
The pay rate of a freelancer is always under her control. If she has too much work in hand, she can increase the rate to balance the load. It is not possible in traditional jobs.
Freelancing professions are creating new jobs. Thousands of gig workers around the world are financially well off now taking this as a career.
It is benefiting the companies or individuals who are hiring freelancers. Developing and managing a full-time expert in-house team is costly. Rather, freelancers are on-demand workers who can support them at a fraction of the costs.
The freelancing career is creating hundreds of young entrepreneurs. These young leaders are exploring new horizons in their careers and serving the economy in many ways. 
With the huge benefits I have discussed, freelancing entails some risks as well. Gig workers do not get any benefits other than the one-time payment. A full-time employee may have retirement benefits, health insurance, yearly increment, profit share, and bonus that a freelancer will never get.
But overall, we can say from our experience that these negatives of a freelancing career are quite manageable. It has a lot more positive impacts that make the drawbacks insignificant.
Freelancing is a buzzword in Bangladesh for the last few years. We know from a study from Oxford Internet Institute that around half a million gig workers are actively working in Bangladesh that fulfills around 16% of the total demand of the world. Bangladesh has become the second-largest supplier of freelancers in the world giving India a neck and neck race.
Bangladesh is very few countries in the world which has so many youth populations (around 65%). Youths are always inquisitive to learn new things. Therefore, proper guidance on their career path is very important. There are a few IT training institute in Bangladesh doing this job quite well. Creative IT institute is probably one of the top three. With holistic support from the government and the private institutions, Bangladesh is converting the educated unemployment into an asset.
So, is freelancing a good career? I would say that it is a personal preference. I tried to discuss the positive sides and the shortcomings of it side by side. Now it is up to you whether you like a full-time profession or work independently. It is a good idea if you can start working as a full-time employee under an organization and have some experience. If you enjoy it, then I'd say it is perfect for you. But in case you love a bit more freedom, then it is never late switching your career path.